Off Ice Clinics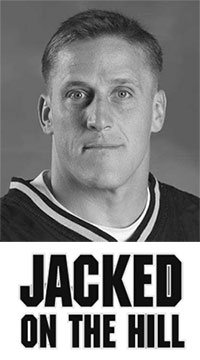 1-Commitment to the Athlete
It is our mission to provide world class training in a positive, confidence-building atmosphere. We develop relationships with our athletes based on mutual respect and professionalism whether they are at the professional, collegiate, high school or junior high level
2-Commitment to Quality
Because we specialize in training young developing athletes, it is extremely important to train them properly. Our staff is committed to not only pushing the athlete, but making sure every movement is mastered technically. When your son or daughter is done with the program, not only will they be better athletes, they will know how to train like world class athletes.
3-We Train the COMPLETE Athlete
We are a comprehensive training program unlike any in central Massachusetts. We are not just a "speed camp" nor are we a power lifting program. We train for strength, speed, agility, power, endurance and most importantly injury prevention.
4-Results
Our alum include dozens of professional hockey players, juniors, and national team players, not to mention the hundreds of Holy Cross hockey players we have trained.
5-Hockey Experience
We worked for five years as consultants to the St. Louis Blues and the former Worcester Ice Cats. We were responsible for developing prospects from all over the world. . I also spent five years training with Mike Boyle at Boston University. Our Hockey team's success here at Holy Cross speaks for itself. I have been developing programs for Mass Hockey and USA Hockey for the past 15 years. As a former professional football player, I have learned what it takes to reach the highest level of sport.
6-Facilities
Our state of the art, indoor-outdoor facilities are second to none in New England.
7-Staff
Our staff consists of some of the finest coaches in New England. Our staff is highly trained and experienced in exercise science.
8-Cost
We have kept our fee constant for the past five years. Our fees equate to slightly less then ten dollars per hour. Most personal trainers are charging in excess of $60 dollars per hour for substandard training. WE WILL NEVER SACRIFICE QUALITY for the bottom line.
9-Group Size
Our group size will not exceed sixteen. We maintain a 1:4 coach to athlete ratio in our weight room to insure safety and quality. This is unheard of in this field!
The program begins on June 6th. If you have any questions, please feel free to contact me at 508 793 2313 or email me at
joliver@holycross.edu
It would be an honor to work with your son!
Sincerely